In the spirit of giving back, I am pleased to announce the launch of the Dominion Lending Centres First Responder Mortgage Program.
Born and raised in Kamloops I began my Mortgage Broker career in 2005. I have been working with clients all over the beautiful province of BC in this role, whether it be purchasing their first home/vacation home/investment property, refinancing an existing home, or helping them take the right steps in order to be able purchase in the future.
In the summer of 2020 Integra made the move to Dominion Lending Centres, the largest mortgage brokerage company in Canada, the resources available are unrivalled in the industry. It is so exciting to be a part of this highly respected company!
I pride myself on extremely high levels of personal service, making strong connections with both clients and other professionals in the industry to ensure the best possible solution for every file I work on.
My business has been built on exclusively on the referrals of happy clients and I cannot imagine a higher compliment.
Outside of work you can find me with my husband Johnny, our children Ryder & Rayne, and our Jack Russell Mac. We'll be on an adventure as we are avid skiers, wake surfers, hikers, bikers and general outdoor
enthusiasts.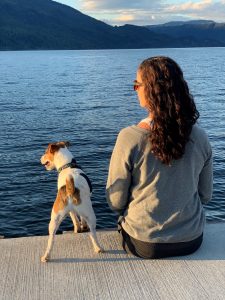 Nicole was a life saver through our purchasing process. She was there via text/phone/email as soon as I had questions (which I had a lot of being a first time home buyer). I couldn't have asked for a better mortgage broker when going through such a significant process such as buying a home.
I would recommend her to anyone wanting to buy a home. I would use her again in a heartbeat. Thanks Nicole for everything!
Jaime, Kamloops, BC
I was a nervous first time home buyer and Nicole was so helpful through every step of the home buying process. Nicole responded quickly to all my questions/concerns even after hours! Nicole was professional, knowledgeable, and informative to all aspects of obtaining a mortgage.
Shawna, Kamloops, BC
Nicole is fantastic! We have used her for both of our home purchases. She clearly communicates everything that is going on as it progresses and is very easy to deal with. Best of all you never have to worry because you know she is always watching out to for your interests and will get you the best deal possible.
Chad, Kamloops, BC
We used Nicole when buying our new home and will use her again with our next purchase. She was very accommodating to my husband's work schedule and we did most of it by email as my schedule is quite hectic. Nicole found ways to save us money that we didn't even know were available! Thank you!!!
Kimberly, Kamloops, BC
Working with Nicole made the process of purchasing our home ultimately stress fee. She is prompt to respond, answer questions and often had addressed issues prior to them even becoming a concern! Nicole also ensured we understood all the details of our mortgage and is extremely knowledgeable in the various options/products. I highly recommend Nicole for any mortgage needs.
Shelby S, Barriere, BC
Our calculators will allow you to explore your Mortgage options.
I'm Interested!
Videos
DLC - Self Employed Mortgage Solution
DLC - Tips for Paying Your Mortgage Faster
DLC Mortgage Life Insurance Explained
DLC- Understanding Your Credit Report
DLC - Getting pre-approved
DLC - Fixed VS Variable Rates
DLC- How to Use Home Equity to Your Advantage
Dominion Lending Centres - Our Agents Can Help!
Dominion Lending Centres- How to chose the best Mortgage Term
Dominion Lending Centres- Why use a Mortgage Professional?